As any of you know, I love living in Madison, WI (technically Monona, but who's counting). We're in the top 10 cities in the country for bicycling and bicycle-commuting, we've got a great cycling infrastructure, and even when I'm complaining to the city about not spending enough money on bike lanes and paths, I have to admit that they've done a great job making cycling accessible to just about anyone living here.
One thing I've neglected to note, though, was how much Dane County (that Madison is in) does for cycling, too.  In some posts I've even conflated the two, talking about how great the cycling paths are in Madison, when most of what we were riding was just outside the city, and *actually* maintained by either the State or Dane County.  Well, NO MORE!  I'm here to say, officially:  THANK YOU DANE COUNTY.
Dane County recently put out it's "bicycle planning map", and while there are few specific details about when/where everything will be built, it's great to see them proactively putting projects on the drawing board to get public input.  Here it is: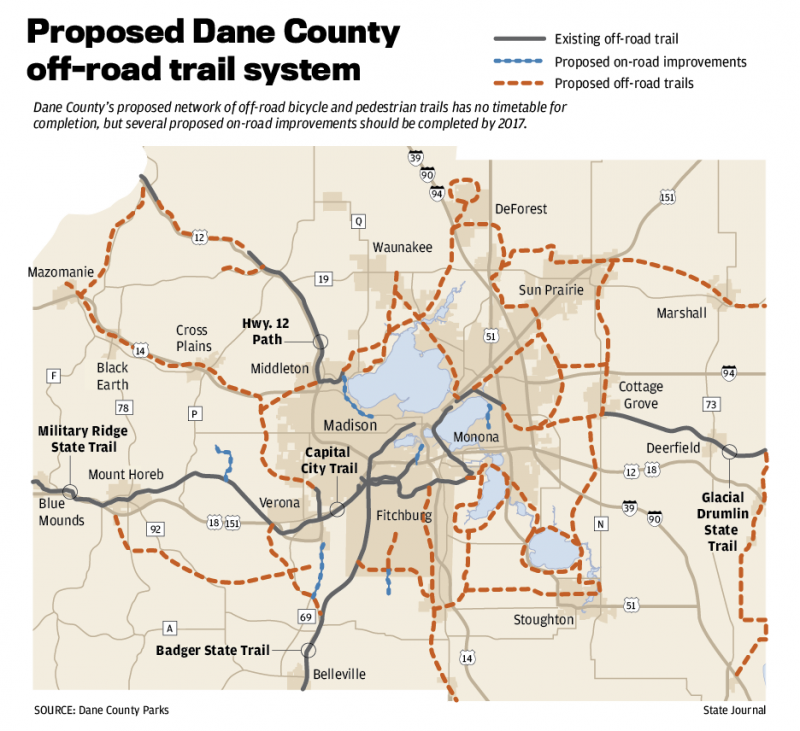 Now, a couple things struck me right off the bat:
1)  The gray (current) trails really do show all of the effort that has gone in to making Dane County (and Madison) an amazing place to live and ride.
2)  Much of what is being proposed is "connecting" one trail to another, or one city to another.  It's proposing to finally connect the Glacial Drumlin trail to the rest of the trail system, and from the Badger State to Verona.  It will also connect the Highway 12 path both to Madison (there's NO easy way to get to it now) as well as connect it all the way up to Sauk City about 18 miles away.  These contiguous segments are the hardest to build (or they would have been built already) but are often the most important.  Having a protected and safe bike trail for 90% of the trip doesn't mean much when the other 10% is a 4-lane cluster#~@%.
3)  This plan connects ALL of the local municipalities, and ensures that people choosing to commute by bicycle into Madison can easily do so.  It provides for a straight shot into downtown from Cottage Grove, Sun Prairie and McFarland, all of which are some of the fastest growing communities in the area.  The most heavily-traveled bicycle path in Madison is the Southwest Commuter trail because it's a straight route into downtown from the near (and far) West communities.  Having routes on the East side that collect people from outlying communities and drop them off downtown will make it even more attractive to people looking to commute.  Sun Prairie in particular is only ~11 miles away, but because there's no direct bike route it would be over a 15 mile ride…
3)  I wonder how much of that is going to be paved?  The map above combines both paved and unpaved paths, and I can attest that paved paths get FAR more use than unpaved ones.  All you have to do is take one look at the parking lot at the point where the Badger State Trail goes from paved to unpaved, and you'll see how many people don't want to ride on dirt/gravel paths.
Overall, an amazing plan that looks to link up the cities and towns in Dane County, connect the gaps in the trail network, and continue to bring tourist dollars to this area by promoting recreational activities.  Can't wait.